For the remainder of the year, all our programming will be held virtually via Zoom. Sign up for the Adult Events email list to be notified of new programs.
Events hosted via Zoom require you to download Zoom software to your computer or the app to your mobile device, links to all of which can be found here. Always register so we can send you instructions to join. If you need help setting up Zoom, email demacirc@bccls.org
---
Restorative Yoga & Guided Meditation with Karen Noel – Thursday, July 23 and Thursday, July 30 from 11am to 12pm – Seasoned yoga practitioner Karen Noel will take you through a series of held yoga postures and easy-to-perform breathing and visualization techniques. You can count on a relaxing, rejuvenating experience! Wear loose fitted clothing. Eat a light breakfast. You'll need a mat, towels, or blanket.
Adult Book Club – Thursday, July 9 at 7:30pm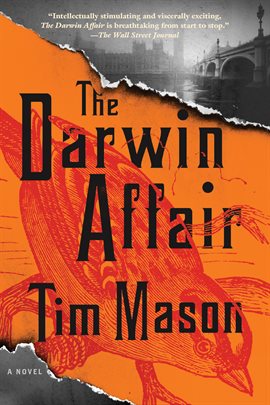 This month's book club selection of The Darwin Affair by Tim Mason is available on hoopla as an eBook or audiobook. This meeting will be held via Zoom. You won't need an account to participate, but you'll need to download the Zoom desktop client or app. To receive an invite, email julia.nock@closter.bccls.org. Out-of-towners welcome!
September Book Club: The book club is doing a James Baldwin Project! There is no meeting in August; between now and September 10, read any book by James Baldwin and/or Begin Again: James Baldwin's America and Its Urgent Lessons for Our Own by Eddie S. Glaude.
ESL from Home – Are you interested in practicing English from home? Email orla.cassidy@demarest.bccls.org
Boost Your Immunity with the Magic of Spices – Thursday, July 21 at 1:00pm – Health Coach Jyoti Nebhnani will introduce five must-have spices for your kitchen pantry and their numerous benefits. She will also share easy ways to use them in flavoring your meals.
Health and lifestyle speaker Jyoti Nebhnani trained at the world-renowned nutrition school the Institute for Integrative Nutrition and is board certified from the American Association of Drugless Practitioners. Jyoti is also a laughter wellness coach and is passionate about helping her community achieve more energy and vibrant health through natural remedies and simple changes in their food, mindset, and lifestyle. To learn more, visit nourishingspoon.com
Iced Is Nice!: How to Make Healthy, Homemade Iced Tea – Thursday, July 28 at 7:00pm – Join Nina Androski, tea enthusiast and Tealightful Tea Brand Ambassador, for an introduction to the world of loose-leaf tea from the plant to your glass! Learn about different types of teas and brewing methods; how iced tea was "invented" and its history in America; iced tea traditions from around the world and the healthiest ways to drink your tea iced. Participants will receive email handouts of some iced tea recipes to try at home.
Knitting Club – Wednesday, July 15 at 7:30pm – While the library is closed, meetings will be held via Zoom. Email demarestknitters@outlook.com to receive a link to join.