While the library is closed, we are hosting programs via Zoom. Sign up for the Adult Events email list to be notified of new programs.
---
Restorative Yoga & Guided Meditation with Karen Noel – Thursday June 18 and Thursday, June 25, 11am to 12pm – Seasoned yoga practitioner Karen Noel will take you through a series of held yoga postures and easy-to-perform breathing and visualization techniques. You can count on a relaxing, rejuvenating experience! Wear loose fitted clothing. Eat a light breakfast. You'll need a mat, towels, or blanket.
This event will be hosted via Zoom. You will need to download Zoom software to your computer or the app to your mobile device, links to all of which can be found here. Please register so we can send you instructions to join. You will be registered for all four sessions.
Adult Book Club – Thursday, June 11 at 7:30pm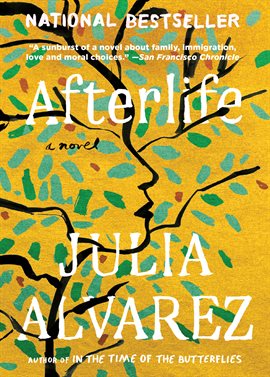 This month's book club selection of Afterlife by Julia Alvarez is available on hoopla and on Libby. This meeting will be livestreamed on Zoom. You won't need an account to participate, but you'll need to download the Zoom desktop client or app. To receive an invite, email julia.nock@closter.bccls.org. Out-of-towners welcome!
ESL from Home – Are you interested in practicing English from home? Email orla.cassidy@demarest.bccls.org
Knitting Club – Wednesday, June 3 and Wednesday, June 17 at 7:30pm – While the library is closed, meetings will be held via Zoom. Email demarestknitters@outlook.com to receive a link to join.
Summer Smoothies with Coach Jyoti – Monday, June 1 at 7pm – This summer, sip on refreshing and delicious smoothies while by the pool or in the backyard. Health Coach Jyoti will show you how to quickly and easily prepare healthy smoothies. Make your own "Home Queen" treats!
Health and lifestyle speaker Jyoti Nebhnani trained at the world-renowned nutrition school the Institute for Integrative Nutrition and is board certified from the American Association of Drugless Practitioners.